Author: Pratishna Engineers | Published on : 30 Oct 2021
PV Series Plastic Injection Moulding Machines

Pratishna Engineers manufacturing and exporting Advanced PV Series Plastic Injection Moulding Machine worldwide.
Pratishna Engineers – one of the largest manufacturer and supplier of PV Series Plastic Injection Moulding Machine, Vertical Injection Moulding Machines (PV Series), PVC Moulding Machine, Automatic Horizontal Locking Vertical Injection Moulding in Mumbai, India. Pratishna Engineers is India's leading Industrial PV Series Plastic Injection Moulding Machine exporters.
Pratishna Engineers offers the complete solution for plastic injection moulding all under-one-roof from concept design and manufacture to assembly and packaging. Pratishna Engineers distinguished manufacturer of specialised PV Series Plastic Injection Moulding Machine for making high-volume quality plastic parts and products.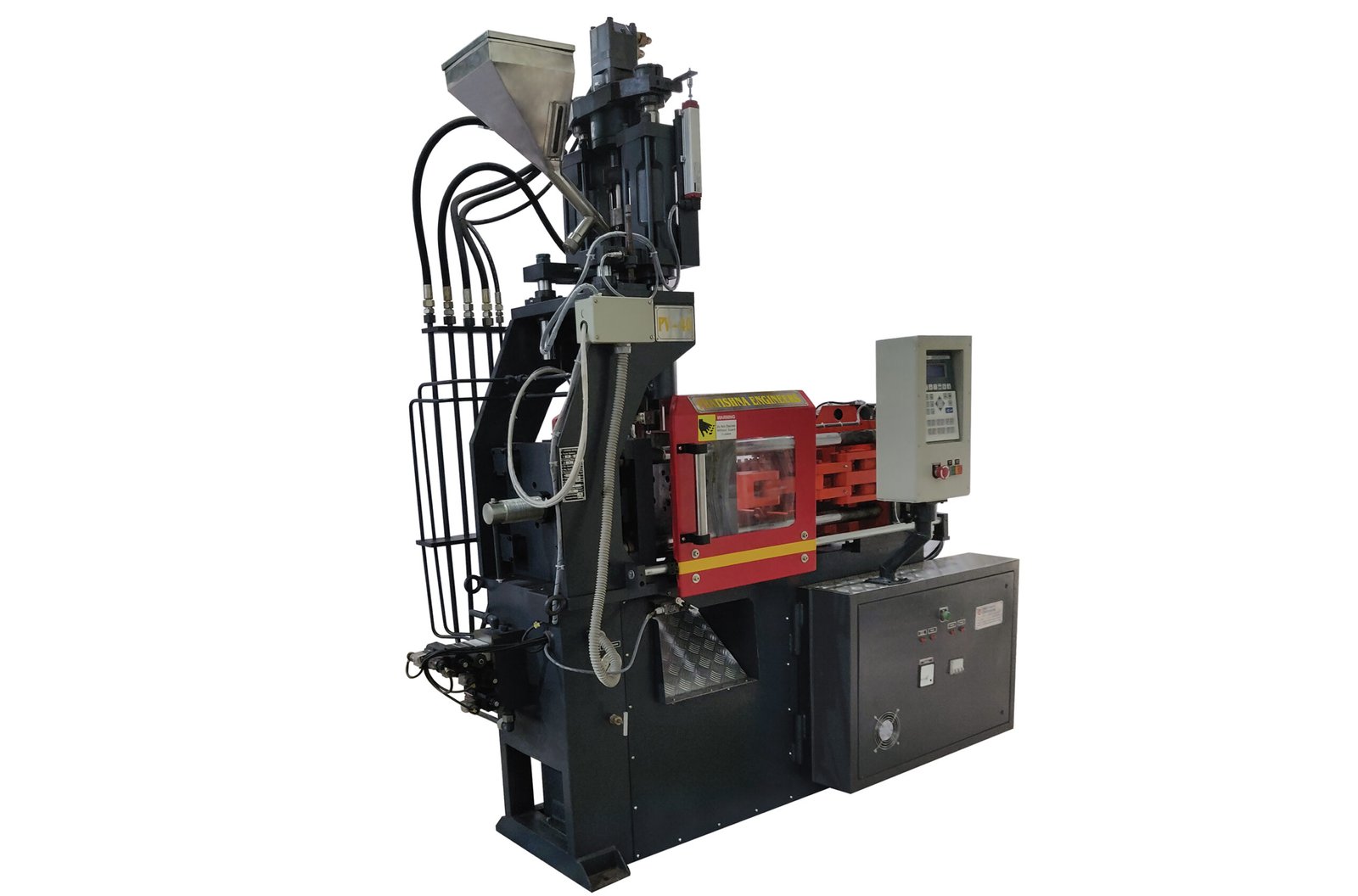 PV Series Plastic Injection Moulding Machine Supplier
Sales | Installation | Consultations | Customizations
Industrial PV Series Plastic Injection Moulding Machine is specially designed for mass production of smaller components with Multi cavities mold and operator less fully automatic manufacturing operations. Machine with Microprocessor and proportional Flow/Pressure Hydraulics to ensure repeatability consistency and high production rate with negligible rejections. Available in sizes PV 30-PV 40 and PV 60 model with Shot capacity of 60 gm to 150 gm. PV Series Plastic Injection Moulding Machine requires very less floor space with minimum of connected Load makes ideal choice for Factories in Metro cities. All types of materials with Glass filled varieties can be molded on this machine.
Capacity :50 to 250 Ton Locking

Clamp Style: Toggle Locking

Clamping Force: 50 to 250 Ton

Machine Structure: Horizontal Injection Molding Machine

Machine Series: VT series Injection Moulding Machine

Material: PE-PP-PS-PC-ABS-Nylon-Delrin-Teflon & All Commodity & Engineering Plastics

Maximum Injection Pressure: 1400 TO 2000 KG/CM2

Power: 10 to 50 HP
PV Series Plastic Injection Moulding Machine offers the versatility to generate designs that have intricate detail or complexity, down to simpler forms in any range of sizes from small to large objects and can be utilised to manufacture numerous solid parts such as bottle caps, containers, computers, electronic housings, agricultural products, toys, machinery components, televisions components, outdoor furniture, and much more. Injection molding machines can mass manufacture any custom plastic products for practically any application and sizes. 
Advantages of PV Series Plastic Injection Moulding Machine
Ability to complete high-production rates.

Minimal material loss.

Minimal finishing time required.

Repeatability of accurate tolerances.

Low labour costs.

Wide range of materials available for specific applications.  
PV Series Plastic Injection Moulding Machine utilises the latest in injection moulding technology, materials handling and automation to provide top quality precision moulded components to a range of industries such as Aerospace, Engineering, Telecoms and Medical devices. PV Series Plastic Injection Moulding Machines are manufactured at our premises using quality tested components in compliance with industry quality standards. 
PV Series Plastic Injection Moulding Machine Technical Parameters / Specifications
For Technical Parameters / Specifications, Please Download PDF.

For more information on Installation of PV Series Plastic Injection Moulding Machine and Additional services, contact Pratishna Engineers at +(91) – 9969038542 or submit the Enquiry Form.
Note: Looking for something specific? Customisation is also available with above products. Please specify in the Enquire now page.
Why Pratishna Engineers?
Injection Molding for companies of all sizes

Create a huge variety of complex parts of different sizes and shapes, through Injection Molding.

Support with extra Capacity when you need it.

Reliable products and Consistency in output.

Ease of operation and Energy efficient operations.

Ease of maintenance with lowest operating costs for the users.

Quick & clear communication during the entire process with qualitative guidance.
Working/ Operating Principle of PV Series Plastic Injection Moulding Machine
Injection molding is a manufacturing process for producing parts in large volumes – from thousands to millions. Depending on the type of requirement, application and type of product you want to produce, it can be easily achieved by high quality and cost effective injection molding systems. The thermos Injection Moulding process at Pratishna Engineers is a standard process involving an aluminium mould as it transmits heat much more efficiently than steel, so does not require cooling channels – which means the time we save on cooling can be applied to monitoring fill pressure, cosmetic concerns and producing a quality part.  
Raw material or Resin pellets are laden into a container for melting and compression, and injected into the mould's runner system and then hot resin is shot into the mould cavity through the gates and the part is moulded. Ejector pins enable exclusion of the part from the mould where it drops into a loading bin. The injection molding method uses high temperature and extreme pressure to adequately fill the internal space with liquid polymers or molten plastic resin. Subsequently, the moulds are then cooled to release completed plastic parts. When the process is complete, products and quality checked, packaged and shipped.The Injection molding process is highly adaptable and can mass manufacture innumerable types of parts for a wide range of applications.
In PV Series Plastic Injection Moulding Machine, different types of material and resins can be used like Polyethylene (PE), Polypropylene (PP), Polycarbonate (PC), Polystyrene (PS), High Impact Polystyrene (HIPS), Polyether ether Ketone (PEEK), Acrylonitrile Butadiene Styrene (ABS), Styrene Acrylonitrile (SAN), Polyurethane (PU), Polyamide – Nylon 6,66,12 etc (PA), Polyoxymethylene (POM- Acetal), Composites/Blends, Polymethyl methacrylate (PMMA), Polybutadiene Terephthalate (PBT), Biodegradable Polymers, etc.
Applications of PV Series Plastic Injection Moulding Machine
PV Series Plastic Injection Moulding Machine finds applications in wide range of products in numerous industries like:
Commercial Products like Electrical Boxes, Mop Heads, High-end Trash and Recycling Receptacles, Vending Machine Components, Equipment Housings, etc.

Plastic bottles ranging in multiple shapes and sizes, 

Electronic coverings like televisions, medical equipment, remote controls, computers, and other consumer electronic components, housings.

Different types of plastic toys in many colours, shapes, and sizes.

Household Items like moulded closures, containers, components, and drinkware. 

Medical Components for plastic syringes to tools used in medical procedures, Sharps Disposal Bins and Wall Mounts, Medication Trays, etc.

Automotive industry for making Colour-matched Interior Components.

Machinery and Automotive Components like Bumpers, dashboards, radio controls, cup holders, and many other elements found in cars and transportation vehicles, both interior and exterior, are made by the injection molding process.

Commercial Construction for Conduits for Concrete Beams, Insulators, Raised Flooring Panels, etc.

Consumer Goods like Skateboard Storage Racks, Barbecue Accessory, Bird Feeder, Tackle Boxes, Toilet Seats, etc.

Short-Run 3D Printed Components like Electrical Knobs, Specialty Buttons, Fixtures, etc.

Plastic industry for making different types of plastic toys, High-end Collectible Models, Decorated Children's Furniture, etc.

Home Products like Flower Pots, Wire Ties, Air Freshener Units, Spring-loaded Supermarket Display Tray, Literature Display Rack, etc.

Residential Construction such as Roofing Vents, Railing Gaskets, Deck Fasteners, etc.

Sporting Goods like Training Devices, Exercise Tools, etc.
PV Series Plastic Injection Moulding Machines Suppliers and Services
Pratishna Engineers Ltd is one of the leading manufacturers, suppliers and exporter of PV Series Plastic Injection Moulding Machines products in India to an Industry-wide customer base and committed to customer fulfilment at competitive market prices. We manufacture, supply and market products to all Indian cities and export to Europe, Middle East and Africa:
Pratishna Engineers Supplying to these Indian Cities.
Ahmedabad | Indore | Pune | Ludhiana | Surat | Delhi | Kolkata | Noida | Mumbai | Chennai | Jaipur | Gurugram | Hyderabad | Bangalore | Vadodara | Faridabad | Rajkot
Pratishna Engineers Exporting to these Countries.
Netherlands | Mexico | Kenya | Tanzania | Oman | USA | Poland | Italy | Nigeria | Indonesia | United Kingdom | Malaysia | Sri Lanka | Australia | Qatar | Spain | Canada | Uganda | Maldives | Saudi Arabia | United Arab Emirates | Germany | Djibouti | Mauritius
Note: Please note that the information on this document is for illustration purposes only as information may vary with individual products, their grade and applications, industries or uses and therefore cannot be guaranteed as accurate. © Copyright 2021 © Pratishna Engineers All Rights Reserved (Terms of Use). Recreation of any materials from the site is strictly prohibited without permission.  Pratishna Engineers's products are sold exclusively through Pratishna Engineers's website. Use Terms | Privacy. Please contact us to discuss precise product specifications and requirements and obtain advice on which products are required to suit your exact application needs [email protected]