Author: Pratishna Engineers | Published on : 30 Oct 2021
Electric Switch moulding Machine

Pratishna Engineers manufacturing and exporting high quality Electric Switch Moulding Machine worldwide.
Pratishna Engineers – one of the largest manufacturer and supplier of Electric Switch Moulding Machine, Precise electrical switch moulding machine, Electric Switch Plastic Injection Moulding Machine, Automatic Moulding Machine for Electric Switch and Socket, Plastic Socket / Switch Electric Injection Moulding Machine in Mumbai, India. Pratishna Engineers is India's leading Industrial Electric Switch Moulding Machine exporters.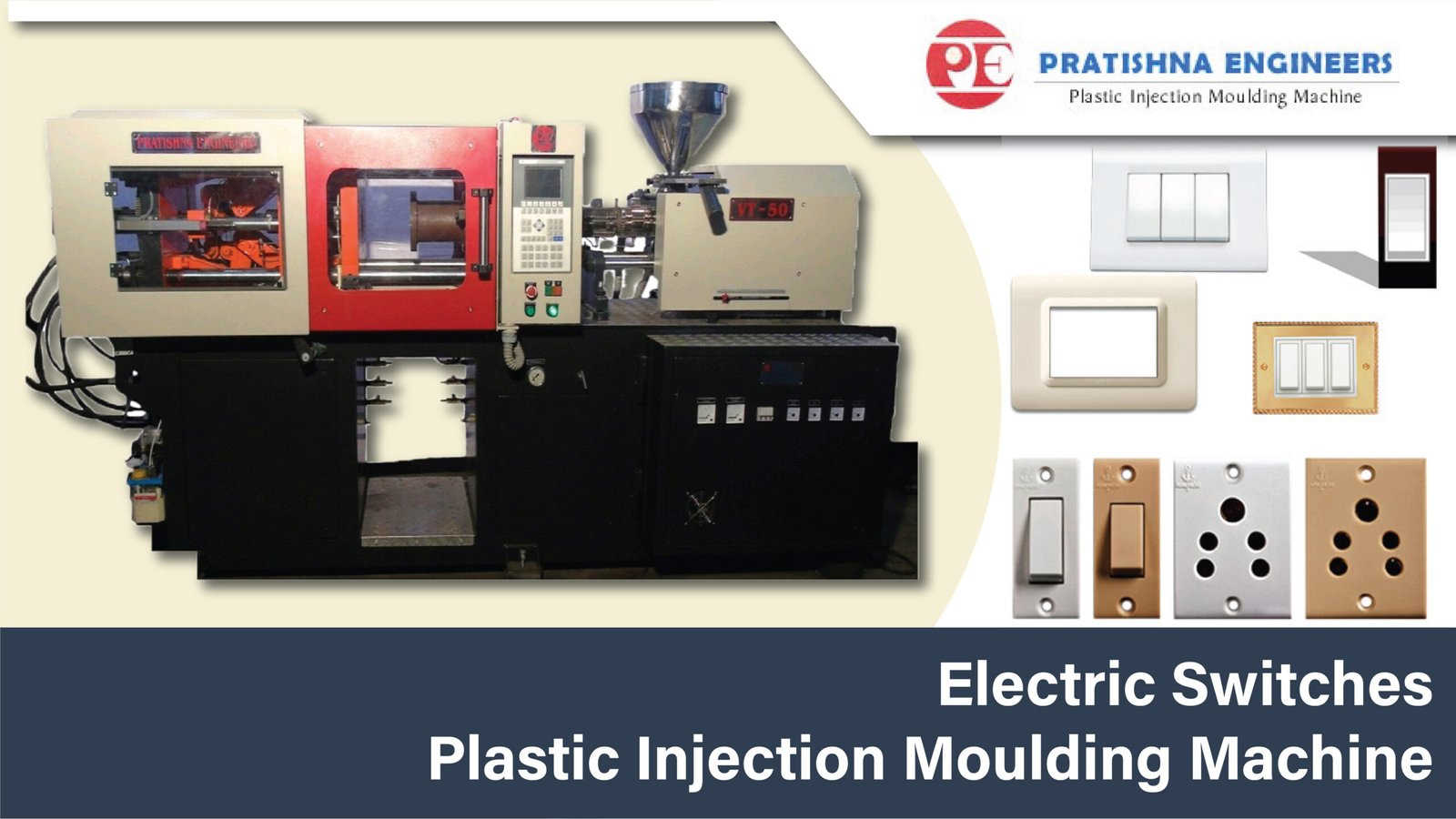 Electric Switch Moulding Machine Supplier
Pratishna Engineers is one of the leading manufacturer, supplier, and exporter of Electric Switch Moulding Machine in India. These machines are manufactured from high-quality materials that are sourced from trusted and reliable vendors. Electric Switch Moulding Machine are manufactured at our premises using quality tested components in compliance with industry quality standards.
Further Information
For Technical Parameters / Specifications, Please Download PDF.

For more information on Installation of Injection Moulding Machines and Additional services, contact Pratishna Engineers at +(91) – 9969038542 or submit an Enquiry Form.
Note: Looking for something specific? Customisation is also available with above products. Please specify in the Enquire now page.
About Pratishna Engineers
Since 1991, Pratishna Engineers, is leading manufacturer, supplier, and exporter of Injection Moulding Machines in the industry of Injection Moulding. Our business core holds manufacturing and supplying of Injection Moulding Machines, Horizontal Injection Moulding Machine, PV Series Plastic Injection Moulding Machine, PVDL Series Vertical Locking Vertical Injection Moulding Machine, PVC Injection Moulding Machine, PET Injection Moulding Machine, Vertical Locking Vertical Injection Sliding Double Station, and PHM Series Two Platen Injection Moulding Machine, Aluminium Pressure Die Casting Machines, Special Purpose Machines and Equipment, Precision machined assemblies.
Why Us
Injection Molding Machines for companies of all sizes.

Create a huge variety of complex parts of different sizes and shapes, through Injection Molding.

Fast & clear communication, during the entire process, with qualitative guidance.

Support with extra Capacity when you need it.

Reliable products and Consistency in output.

Ease of operation and Energy efficient operations.

Ease of maintenance with lowest operating costs for the users.
With the implementation of modern technology and energy efficient design resulting in cost cutting for production for our clients directly affecting the affordability of end products in the domestic as well as international markets. The stringent quality standards and design lead has helped in association with top engineering companies like Godrej & Boyce Ltd. for manufacture under their brand name. Our esteemed clients are spread all over the country. We export in major territories across Africa, Asia, and the Middle East.
Electric Switch moulding Machine Suppliers and Services
Pratishna Engineers Ltd is one of the leading manufacturers, suppliers and exporter of Electric Switch moulding Machine products in India to an Industry-wide customer base and committed to customer fulfilment at competitive market prices. We manufacture, supply and market products to all Indian cities and export to Europe, Middle East and Africa:
Pratishna Engineers Supplying to these Indian Cities.
Ahmedabad | Indore | Pune | Ludhiana | Surat | Delhi | Kolkata | Noida | Mumbai | Chennai | Jaipur | Gurugram | Hyderabad | Bangalore | Vadodara | Faridabad | Rajkot
Pratishna Engineers Exporting to these Countries.
Netherlands | Mexico | Kenya | Tanzania | Oman | USA | Poland | Italy | Nigeria | Indonesia | United Kingdom | Malaysia | Sri Lanka | Australia | Qatar | Spain | Canada | Uganda | Maldives | Saudi Arabia | United Arab Emirates | Germany | Djibouti | Mauritius
Note: Please note that the information on this document is for illustration purposes only as information may vary with individual products, their grade and applications, industries or uses and therefore cannot be guaranteed as accurate. © Copyright 2021 © Pratishna Engineers All Rights Reserved (Terms of Use). Recreation of any materials from the site is strictly prohibited without permission.  Pratishna Engineers's products are sold exclusively through Pratishna Engineers's website. Use Terms | Privacy. Please contact us to discuss precise product specifications and requirements and obtain advice on which products are required to suit your exact application needs [email protected]